Technical documentation in industrial and engineering projects: how do you achieve high-quality translations?
Technical translation is considered to be the most demanding, as it requires rigour and perfect knowledge of the sector in question.
And there are many sectors! The SFT, France's trade body for translators, has identified no fewer than 25 fields.
Technical translation is also complex.
Firstly, this is due to the nature of the documents to be translated, which are numerous and varied: user manuals, patents, product information sheets, certificates, specifications, laws and standards, etc.
Above all, this is also due to the technical vocabulary used in these documents.
It therefore requires the use of skills and knowledge that are specific to the areas of activity in question, such as civil or other types of engineering. Sound knowledge of international issues affecting these sectors is also essential.
However, what choices can you make to ensure you get high-quality technical translations? We cover all of this below!
1. What engineering or civil engineering projects can benefit from a translation service?
What defines a major engineering or civil engineering project?
Translation services are generally requested for major engineering or civil engineering projects, involving factories, public infrastructure (the transport sector, for example) or any type of complex or large-scale installations.
These major projects generally take place in the energy industry. They have an international dimension and require substantial budgets. They take place in a complex environment, given the large number of stakeholders involved, including suppliers.
At EuropaTrad, the language service provider for all your projects, we support companies in the renewable energy, oil and gas, nuclear, chemicals, aeronautics, transport infrastructure, IT and electronics sectors.
The challenges involved in translating documents are consequential for the complex industrial installations in these sectors.
For large-scale projects, the technical and budgetary constraints are significant and require particular attention to ensure the infrastructure can be operated in the best possible conditions.
What are the specific aspects of these major projects?
These international projects are characterised by the many stakeholders that take part in them. These projects include teams, suppliers, and partners who don't speak the same language or share the same culture.

Even if the stakeholders involved in these projects prefer to use English – an essential language for the project – proficiency in the local language where the project takes place is also essential.
Indeed, this makes it easier for suppliers, who are involved in the following areas, to understand each other:
Regulations
Approval and certification permit documents
Technical descriptions
Conditions of use
These projects involve hundreds of suppliers and partners: the value chain is profoundly international.
An overview of all the suppliers in Boeing's aircraft production line: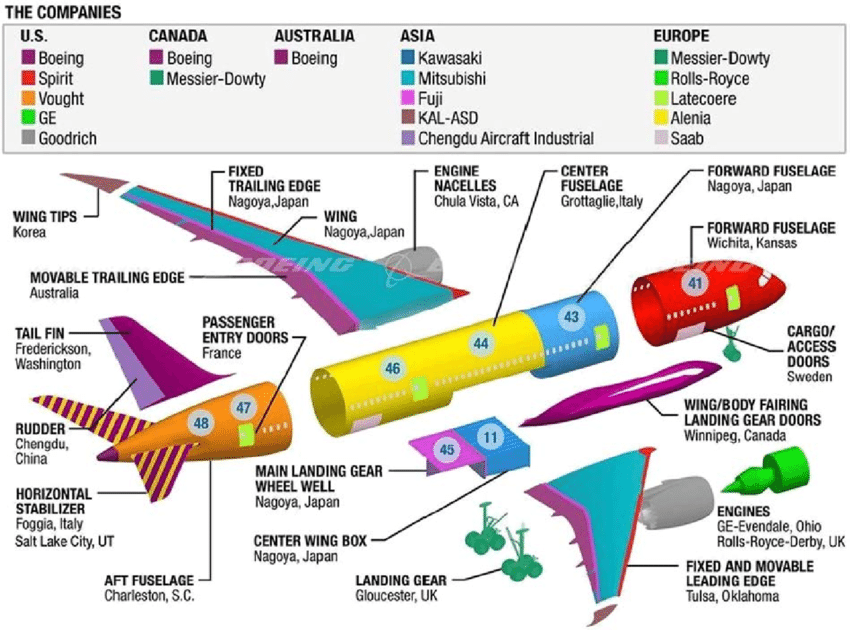 2. What are the challenges involved in translating major engineering or civil engineering projects?
Projects that involve different stakeholders, therefore different languages
As we have seen, major engineering and civil engineering projects involve several stakeholders.
The main challenge is, therefore, to ensure that all these stakeholders can communicate on a single project. At all stages of the project, ensuring that everyone can understand is essential for a successful end result.
Although the project may start out in English, it is necessary to translate into the language of the host country, in particular for regulatory reasons but also to meet the needs and constraints of certain stakeholders.
Therefore, translating into the language of the project owner is often essential. Come countries, such as Russia, systematically require a bilingual translation of technical documents.
There is therefore a need to standardise the content and terms used over many different documents. This is often a risky exercise as different stakeholders may translate part of the technical information covered by their work. This situation requires even greater care to ensure that the different translations are in synergy and align with each other.
The challenge is twofold:
Adapting

the documents of all stakeholders
Ensuring that all project documents are

accurate and consistent
Multi-format project documents
Complex projects require many different document formats:
Calculation notes
Descriptions
Approval and certification documents
AutoCAD drawings
Human-machine interfaces
These different formats require proven formatting skills, to optimise project management.
The efficiency of these multi-format translations makes it possible to deal with the increasing speed of projects but also the non-negotiable deadlines required by this pace.
At EuropaTrad, our quality approach, enables us to:
Identify,

from the outset

, the information to be processed that requires time and expertise
Deliver,

at the end

, translated documents that are ready to use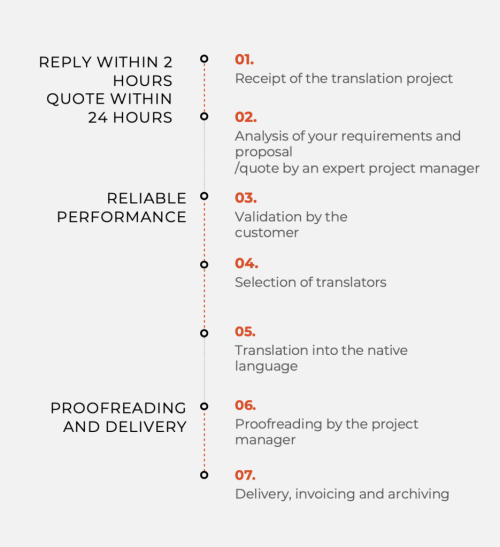 Projects constrained by regulations
Major industrial projects are often classified as high-risk as they are covered by considerable environmental or technical regulations.
Being well-versed in the regulations and standards of different countries is a key factor in success for companies with international ambitions.
This requires:
An understanding of the challenges associated with

local regulations

from the outset of the project.
Communication of information in the

language used

in local regulations.
Avoiding all misunderstandings, misinterpretations or mistranslations that may have unfortunate impacts and pose a

risk

for the continuation of the project
3. Why call on a specialist language service provider?
The language service provider (or LSP) has the tools on hand
You may be tempted to have your bilingual employees carry out your translations.
But your project managers and engineers should be putting their skills to best use in their core areas. They aren't translators, they aren't familiar with translation tools and have even less experience with data analysis.
If you go with this option, you run the risk of ending up with a rather rough translation. And the consequences may be drastic: loss of credibility, poor brand image, lack of professionalism, liability in the event of a dispute!
At EuropaTrad, we believe the translation of technical documents is demanding and requires specialist translators who are familiar with translation tools and content management: terminology databases, translation memories, multi-format translation, etc.
An LSP has technical expertise
The success and compliance of a project lies in the technical knowledge of the vocabulary and experience with technical processes. Imagine the consequences of a simple mistranslation: this could have a serious negative impact on the security of a project and potentially jeopardise it.
Furthermore, major engineering and civil engineering projects often involve complex subcontracting chains. This often leads to translation of documents written by non-native English speakers. This requires significant work to re-interpret the text, which not only involves technical expertise, but perfect knowledge of the source language.
At EuropaTrad, our specialist translators translate over 200 language combinations.
They boast technical expertise in many areas:
Construction and engineering
Industry
Medical and pharmaceutical
Retail and e-commerce
Tourism
Luxury
Local authorities and public bodies
An LSP integrates the translation project into the technical project
Translating a technical project is a project within a project. By this we mean that it is an integral part of the technical project.
This requires:
Organisation: It is essential to think about a translation strategy: organisation of content, sharing of project terms and terminology. This facilitates coordination and sharing and greatly improves accuracy.
Management of expertise: The role of a language service provider is to deploy the right expertise at the right time.
Management of resources: Depending on the scale of the project, the volume of documents to be translated may vary. The strength of a specialist language service provider is being able to rapidly deploy a large team of translators. Its flexibility and ability to adapt enable it to cope with increasing speeds and deadlines that are often very tight between the time documents are finalised and translations are actually delivered.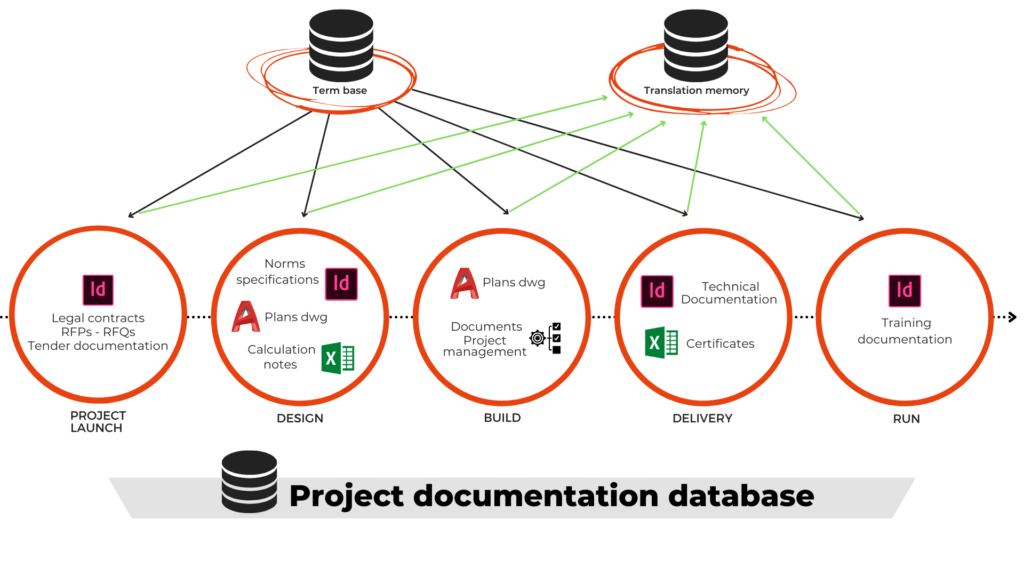 4. Our advice for successfully translating your engineering and civil engineering documents
Preparing your technical translation project
ANTICIPATE the project

: Including the translation project in your engineering or civil engineering project from the outset will

save you time

. Translation is all too often seen as the last stage in the project. This is simply not true!
Anticipating the translation enables you to

produce and verify information

in advance.

CREATE a glossary

: this makes it possible to structure the project. It is also a time-saving mechanism and adds

reliability

to your project.
Don't forget to validate your glossary with field specialists!

AVOID PDFs

: although reliable, PDFs are difficult to edit and use by the translator.
Your content must be in an editable digital format.

ORGANISE the management of your documents

: this makes the translation and

versioning

tasks easier.
For example, make use of a DMS (Document Management System).
"The translator is a partner in the success of your project. Things run smoothly when we build a common translation strategy with the client for the project."
A well-structured and supported translation project may reduce the costs of translating the project by 20% to 30%!

Consulting with specialist language service providers
You'll have understood by now that preparing your translation project is a guarantee of success. It enables you to avoid underestimating the project and significant overruns in terms of time, and therefore budget.
Let us share some advice to prepare as best as possible for dealing with language service providers:
ESTIMATE

the volume of translation you will need for your project as well as the diversity of the content to be translated,

PROVIDE

the service provider with a maximum amount of similar documents to increase the amount of content repetition,

DEFINE

the selection criteria for the chosen language service provider: the face value, the quality process, compliance with deadlines, experience with the specific nature of the sector, etc.
At EuropaTrad, we support you with your engineering and civil engineering technical translation projects.
Don't hesitate to contact us and request your free quote.
HOW ARE TRANSLATIONS PRICED / WHAT DO THEY INCLUDE?

Translations are often priced per translated word – this is the unit price.
But this does not take into account what is known as the "translation memory", which makes it possible to capitalise on recurring terminology in a project over time. This translation memory makes it possible to move away from a word-by-word translation, to improve consistency and to save time.
This requires formatting of the translation memory and expertise from the translation provider to build accurate and reliable translation memories over time.
Therefore, there are several things to bear in mind when comparing the price of a translation from two service providers.