Translating a WordPress site:
EuropaTrad's multilingual WordPress offer
45% of the world's websites rely on the WordPress CMS. If your website relies on WordPress, our multilingual WordPress offer is designed to help you make your website accessible in all languages.
Our project managers and localisation engineers are on hand to help you configure your WordPress site to make optimum use of the plug-ins and connectors that make translation more fluent and error-free.
Translate your WordPress websites
with WPML
To simplify the process of translating your WordPress websites and quickly reintegrate your translated content, EuropaTrad has partnered with WPML.
In comparison to Polylang, another classic, this plug-in facilitates the creation and use of multilingual websites. With this plug-in, you can replicate the pages of your website and create them in the translated languages.
Once this plug-in is installed, simply connect directly with our translation services and send us your content in a translation-compatible format (.XLIFF).
The WPML extension also enables you to precisely supervise the translation of modifications made to website pages, and send them directly for translation thanks to the connector set up with our platform. This makes translating your WordPress site smooth and efficient.
Once the content has been translated, it is uploaded directly onto your WordPress console, ready to be published by the webmaster. Translation integration times are reduced to a minimum, and copying errors are eliminated.
WPML is suitable for all standard WordPress configurations and can also be used on WooCommerce sites.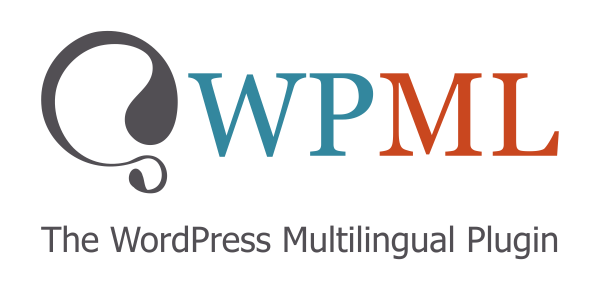 Why use WPML
for your WordPress CMS
In practical terms, by installing the WPML plug-in, you will be able to:
Create the

template of translated pages

directly, like a replica of a website built in a given language (for example an English or Spanish version of a French website), and configure the

language selection menu

.
Select the

pages and strings for translation

– WPML will then give an indication of the number of words to be translated.
Send the pages for translation to a

language service provider

like EuropaTrad.
Reintegrate the translated content directly

in the right place

in the pages.
Manage

subsequent translations

(page modifications or new pages/blog articles).
Our guide to
successful WordPress website translation
In the space of 2 hours, we install the

plug-in on your WordPress website and activate the licence, ensuring it is correctly set up

.
We check the

website settings

together, to make sure that everything is in order and that we translate only what is needed.
You submit the translation request by

selecting the pages for translation

via the translation management tab – we can also complete this step together.
We send you a quote based on the content selected for translation, according to the exact word count, and we then let you know the required translation turnaround time.
Following approval of the quote, we carry out the translation, which is made available to the webmaster.
The content is

integrated directly

on your website and our linguists perform a compliance check.
Your teams can go over the content and make any necessary adjustments.
If you already use WPML, you can directly submit an API token request to connect to EuropaTrad here.
Is your content finalised
and ready to be translated?
Would you like to assess your needs and discuss your translation strategy?
Read our articles to find out more