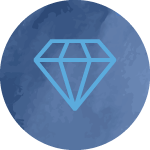 Translation for the luxury sector:
Mastering the language of premium translation
Translation can't be improvised and even less so in the luxury industry where every detail counts. Translation for the luxury sector requires a bespoke approach that needs to be equal to your brand's prestige and reputation. It combines not only tonal accuracy and strong writing skills to reflect quality, but also the refinement and exclusivity associated with your products and services.
A bespoke approach equal to
brands' demands
Faced with an increasingly connected and demanding customer base, luxury brands are adding new points of contact to offer fresh purchasing experiences: chatbots, virtual fitting, live streaming, etc. 
Whatever the type of message and type of file format, we translate all your content: websites, product data sheets, magazines, brochures, press kits, advertising posters, advertisements and video scripts, advertising slogans and catchphrases, online advertisements, packaging and labels, social network publications, etc.
For the last 25 years as a luxury translation service provider, EuropaTrad has offered its expertise to brands to deliver flawless translations equal to their excellence.
Our expertise covers all luxury sectors such as hotels, gastronomy, fashion and haute couture, leather goods, jewellery, watchmaking, perfumes, travel, cosmetics, motor vehicles, wines and spirits, etc.
For excellent communication with your international customer base, a language service provider's expertise is decisive to achieve your image goals. Together we tailor your bespoke translation strategy to match your brand image and editorial policy.
At EuropaTrad, we share your spirit of excellence. We harness our best resources to help you effectively produce exceptional content with global reach, adapted to the needs and expectations of your target markets.
With a global vision, we provide you with advice and expertise to make your translations effective and timeless. We work hard to establish close, long-lasting relationship with our clients by creating multilingual glossaries for them to ensure consistent, coherent content over time, across all channels and media.
EuropaTrad, your
all-in-one linguistic partner
With EuropaTrad, the management of your translations helps you to significantly boost your productivity.
In a single order, you easily manage all your multilingual projects. Whatever the number of languages required, your translations are centralised to manage your projects smoothly.
Whatever the format: we have access to the necessary technological solutions. The content we translate perfectly matches the page layout of your original file format.
Both knowledge of the language of the luxury sector and understanding of the marketing messages conveyed by brands are essential to guaranteeing the uniqueness and consistency of messages targeting their clients worldwide. To meet these requirements, we work with professional translators carefully selected based on not only their sensibility for luxury products and services but also their writing skills.
Our translators are capable of immersing themselves in your brand's universe to highlight your history, your exceptional expertise, and your products and services to the full. Whatever your area of expertise, they'll unlock their creativity to find the right words and attract your international audience and customer base by arousing strong emotions.
Services adapted
to luxury translation
Our solutions
for luxury translation
Would you like to identify the best translation solution for every type of content you produce?
Translate accurately and guarantee excellent readability and local adaptation.
Adapt your writing to the context and emotional intent.
We translate into more than 60 languages
Is your content finalised
and ready to be translated?
Would you like to assess your needs and discuss your translation strategy?